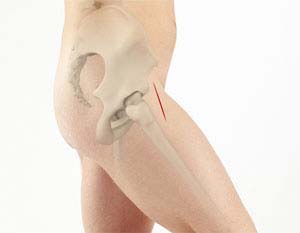 The anterior approach is an approach to the front of the hip joint as opposed to a lateral (side) approach to the hip or posterior (back) approach. It is a true anterior approach to the hip and should not be confused with the Harding approach which is often referred to as an anterior approach.
Rehabilitation is accelerated and hospital time decreased because the hip is replaced without detachment of muscle from the pelvis or femur. Other surgical approaches necessitate detachment of multiple muscles from the femur during surgery. In the anterior approach, by contrast, the hip is approached and replaced through a natural interval between muscles. The most important muscles for hip function, the gluteal muscles that attach to the posterior and lateral pelvis and femur, are left undisturbed.
Since the patient remains in a supine position it is easier to control the leg length and use intraoperative x-rays to check on the cup and stem position. Dr. Boettner routinely uses a patented technique to optimize the cup position in patients undergoing the anterior approach.
Usually special "banana shaped" implants are used to facilitate implant insertion into the femur. Please see below when you should not have an anterior hip replacement.
How much experience has Dr. Boettner with the anterior approach?
Dr. Boettner was one of the first surgeons at Hospital for Special Surgery to start anterior total hip replacement surgery in September 2012. All his procedures are done on the HANA table which allows for a more reproducible patient position during the surgery. Dr. Boettner has patented a new technique to control cup position which has had a considerable impact on the accuracy of cup position. He operates approximately 300 hip replacements every year and the majorities are now operated on through the anterior approach.
When should I not have an anterior hip replacement?
I usually advise against an anterior hip replacement if you have major deformities that might require an extended approach. Also if you bone quality is not good or if you are at risk for fracture we will usually prefer the posterior approach since it allows us to use more stable femoral implants and also offers us the option to cement the stem if this is necessary. We also prefer the posterior approach if you have excessive femoral anteversion and need to have a modular s-rom type implant. Since these implants require straight reaming they cannot be inserted through an anterior approach.
What are the specific risks of an anterior approach?
The main issue with an anterior approach is femoral component fixation. Sometimes cemented fixation is needed or special implants are required that can only be used safely with a posterior approach. Dr. Boettner will discuss this with you prior to surgery. Beside the slightly higher risk of femoral component loosening/fracture, which is documented in the literature, there is also a risk of numbness on the side of the hip in ca. 10-15% of the patients secondary to irritation of the lateral femoral cutaneous nerve. Please discuss the risks and benefits of total hip replacement and the best implant and approach for your individual situation with Dr. Boettner during your visit.
Are Special Implants Needed for an anterior approach?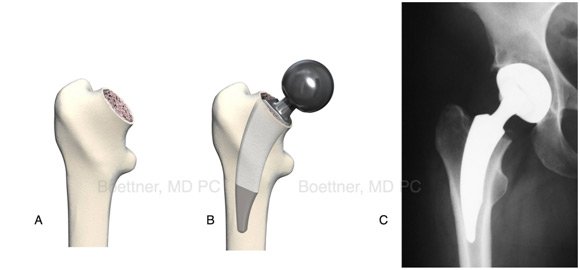 Because the stem has to be inserted around the anterior soft tissues into the femoral canal usually "banana" shaped short implants are used (Image A, Nanos Stem from Smith and Nephew ®). These implants require excellent bone quality since their contact surface to the bone is smaller.
What is the main benefit of the anterior approach?
The main benefit of the anterior approach is that no muscles have to be released to gain access to the hip. Patients with an anterior approach therefore will often experience an easier early recovery. Because the hip is more stable usually our patients will not need to follow hip precautions and can drive as soon as they are comfortable and stopped narcotic medications. Therefor the approach is especially appealing for patients that have to return to work as soon as possible or patients that are felt to be at an increased risk for dislocation. By about 4-6 weeks after the surgery we in our practice do usually no longer see a difference between patients undergoing an anterior or posterior minimal invasive hip replacement.
Sample

These are images of a patient with severe bilateral arthritis of the hip. The patient underwent bilateral short stem uncemented Hip Replacement and a ceramic on plastic bearing.
Anterior Hip Replacement FAQ: Click here
Related Topics: