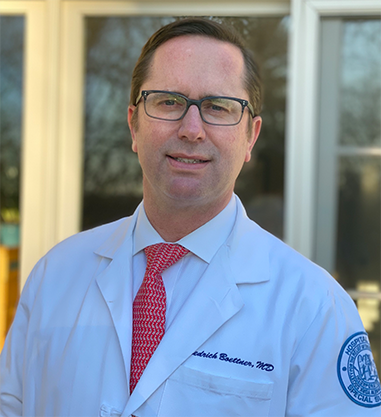 Dr. Fritz Boettner is a specialist in joint-preserving arthroscopic surgery and minimally invasive total joint replacements of the knee and hip.
His practice concentrates on the nonsurgical and surgical treatment of early arthritis. As part of a patient-centered individual approach, he performs arthroscopic cartilage surgery and minimally invasive total joint replacements as well as resurfacings.
"Minimal invasive surgery reduces surgical trauma, resulting in advantages for early rehabilitation," he says. "In addition, patients love their cosmetically appealing incision."
Born in Germany, Dr. Boettner studied at the top international centers for his specialty, completing fellowships in four sub-areas, as well as additional training in pelvic osteotomies and open hip dislocation with surgeons in Germany, Switzerland and the United States. He has authored an orthopedic textbook, as well as numerous scientific publications.
Appointments
Assistant Attending Orthopaedic Surgeon, Hospital for Special Surgery
Assistant Professor of Orthopaedic Surgery, Weill Cornell Medical College
Specialty
Subspecialty
Special Expertise
Hip Surgery
Hip Resurfacing
Minimally Invasive Posterior Hip Replacement
Minimally Invasive Anterior Hip Replacement
Complex Revision Hip Replacement
Knee Surgery
Knee Arthroscopy
Unicondylar Knee Replacement
Patellofemoral Knee Replacement
Minimally Invasive Total Knee Replacement
Revision Total Knee Replacement
Awards
Travelling Fellowship, American Orthopaedic Association 2000
OrthoBiotech OREF Award for Excellence in Blood Management 2005
Best Poster Award, European Society of Anesthesiology 2013
Best Poster Award, North German Orthopaedic Association 2013
Best Poster Award, EFORT Meeting, London 2014
Best Paper Award, World Arthroplasty Congress, Paris, 2015
Best Poster Award, European Knee Society, London 2017
Membership Professional Societies
Orthopaedic Research Society (ORS)
German Orthopaedic and Traumatology Society (GOOC)
Arthroscopy Association of North America (AANA)
International Society of Arthroscopy, Knee Surgery and Orthopaedic Sports Medcine (ISAKOS)
Specialized Centers
Center for Hip Preservation
Industry Relations
Below are the healthcare industry relationships reported by Dr. Boettner as of March 11, 2013.
Ortho Development Corporation – Product design consultant; designed high flex total knee replacement system; receives royalties
Smith & Nephew – Product design consultant; revision total knee arthroplasty device; receives royalties
Board Certification certificate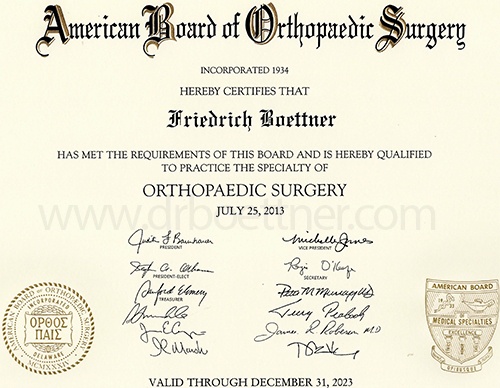 Friedrich Boettner, MD PC
HSS Westchester Outpatient Center
1133 Westchester Avenue, White Plains, NY 10605

East River Professional Building 523 East 72nd Street
7th Floor, New York, NY 10021

333 Earle Ovington Blvd
Suite 106, Uniondale, NY 11553
(212) 774-2286
[javascript protected email address]