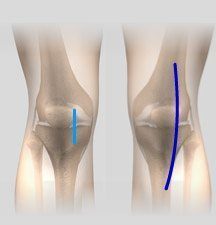 Once the arthritis affects two or three compartments inside the knee and nonoperative treatment options have failed, Dr. Boettner will discuss with you minimally invasive total knee replacement. Dr. Boettner usually utilizes a minimally invasive approach, trying to minimize any injury to the quadriceps muscle. We do use posterior stabilized implants, which, in the past, have shown to have better range of motion than cruciate-retaining total knee replacements. Dr. Boettner has extensive experience in total knee replacement surgeries, especially, knee replacementsfor severe deformities.
Usually if you undergo total knee replacement you will have spinal epidural anesthesia with epidural pain management after the procedure. You will stay in the hospital for three days and start working on range of motion and be mobilized out of bed on the day after the surgery. Patients usually regain range of motion within four to six weeks of the procedure and regain their independence, including stair climbing, within 6 to 12 weeks.Most of our patients are able to return to work within six to eight weeks. For young patients, we do offer a ceramic-coated total knee replacement, which has been shown to decrease wear rate and ultimately might have a positive effect on the implant's long term survival.
There are a number of different types of knee replacement. In this section of the website we focus on total knee replacement surgery that replaces all 3 compartments of the knee (C).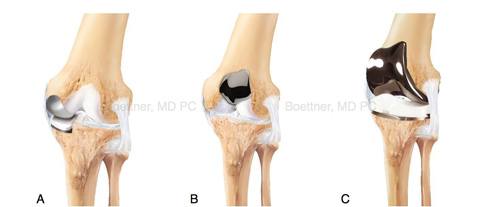 Total Knee replacement is usually considered the treatment option of choice when non-operative treatment modalities like injections, physical therapy, NSAID and natural anti-inflammatories have failed to provide lasting pain relief.
During a total knee replacement the entire joint is replaced using a tibial, femoral and patella component, usually fixed with cement onto the bone.
Patients undergoing total knee replacement at Hospital for Special Surgery receive spinal-epidural anesthesia and postoperative pain management using an epidural pain pump. This allows the patient to start physical therapy early and make considerable progress already during the first 3 days after the surgery. Most of our patients stay in the hospital for 3 days. After this we do recommend 3-4 weeks of intensive home or inpatient rehab. It usually takes 6-12 weeks to return to work and realize most improvements after the surgery.
Total knee replacement can be considered for patients with all kinds of deformities. The following images show a patient with severe "bow" leg deformity and medial tibail bone loss secondary to end stage arthritis. The knee replacement replaced the disease cartilage and also realigned the knee. Considering the significant medial bone loss a stem was used on the tibial side to augment fixation.
The following patient presented with severe arthritis 15 years after an ACL reconstruction. Now at age 45 he complained about increasing stiffness and pain. A total knee replacement provided a functioning pain free joint that ultimately let the patient return to his work as a police officer.

Sometimes patient develop arthritis because of a deformity in the legs. The following patient had suffered a femur fracture after a car accident 12 years ago. The fracture had healed with a bow that resulted in excessive load in the inside compartment and arthritis. With accurate surgical technique Dr. Boettner was able realign the knee and reconstruct normal alignment and range of motion.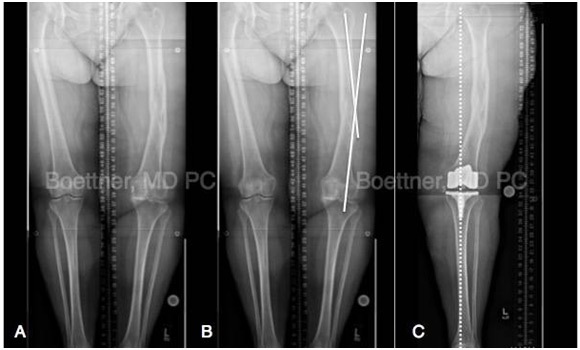 Sometimes especially woman and patients with rheumatoid arthritis will present with severe "knock knee" deformity. This deformity will often result in laxity of the medial collateral ligament and do require careful soft tissue releases to rebalance the knee. The following patient was unable to walk when she came in for surgery because her leg would no longer support her weight. She with the new knee was able to put full weight on the leg and return to walking and driving.

Here you can learn more about the steps of a Total Knee Replacement:
Total Knee Replacement FAQ: Click here
Related Topics: