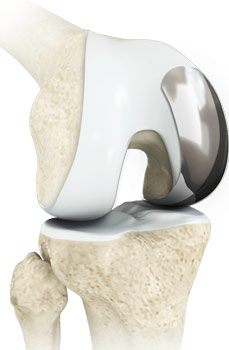 What is Unicompartmental Knee Replacement?
The knee has three compartments, the medial and lateral between Femur and Tibia as well as the patellofemoral, between Femur and Patella. A "total" knee replacement replaces all three compartments, while a partial knee replacement or uni-compartmental knee replacement only replaces one compartment. This is indicated when one compartment shows advanced arthritis while the other compartments look normal. Most common is this for the medial compartment. The arthritis here affects predominantly the inside of the knee, results in a progressive bowing (varus) of the knee and causes predominately medial knee pain. Partial Knee repalcements usually have shorter operating time, less blood loss, are a reduced trauma to the knee and allow for faster recovery. Most of the procedures we do today are done outpatient.
Diagnosis of Arthritis
Your doctor will diagnose osteoarthritis based on your medical history, physical examination, and X-rays. X-rays typically show a narrowing of joint space in the affected compartment. Often we will also order an MRI to evaluate the integrity of the anterior cruciate ligament and make sure there is no arthritis in the other compartments of the knee.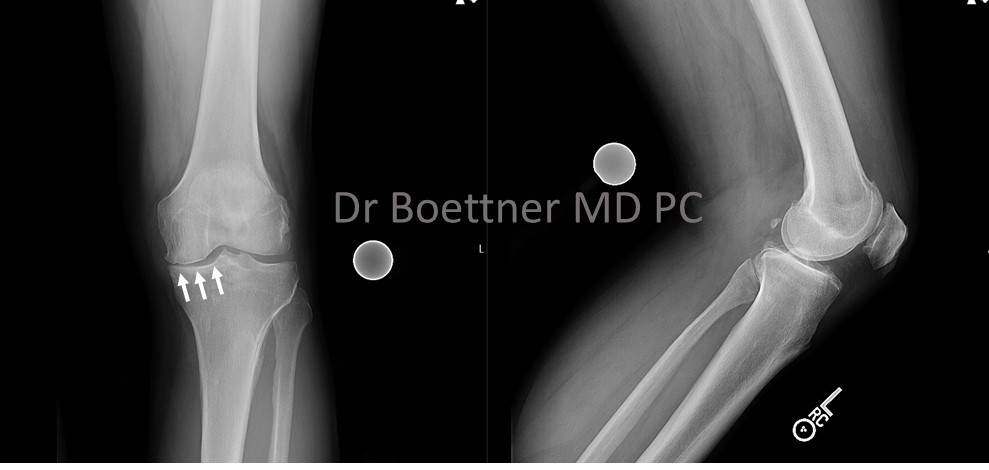 When am I a candidate for partial knee replacement?.
This is determined by a number of factors. Of course there should be no arthritis in the other compartments. Minimal arthritis in the patellofemoral compartment is usually not considered a contraindication.
There are a variety of other factors I usually evaluate to decide if you are a good candidate:
Arthritis in only one compartment
Arthritis in only one compartment
No major ligamentous instability: Patient with an ACL tear are not considered a candidate since they historically have had much higher loosening rates
Weight < 220 pounds: A medial uni-compartmental knee is at higher risk for loosening and the increased load in an obese patient would result in early failure
Only moderate deformity of the knee: On radiographs we can measure the amount of "Bow-leg". Should the so called varus exceed 10 degrees we favor a total knee replacement since this allows us to better correct the deformity
Good range of motion: If you cannot get your knee all the way straight or have difficulty bending it more than 100 degrees, a partial knee might no longer guarantee good range of motion after surgery.
Age less than 50 and over 65 years of age are ideal: partial knee replacements don't have the same longevity as a total knee replacement. For a 60 year old patient a further revision surgery is much more likely after a partial than after a total knee replacement. We do partial knee replacements for all ages, but longevity, your health etc. should be discussed when deciding in favor of a partial knee repalacement
Not indicated for rheumatoid arthritis: since rheumatoid arthritis is a systemic disease that ultimately affects all parts of the knee, we do not favor partial knee replacements in patients with inflammatory arthritis.
s/p prior surgery: Especially patients with prior ligament reconstructions, fractures or osteotomies are usually no longer considered candidates.
Non-operative treatment:
Knee replacement is only indicated in patients that have failed non-operative treatment. Usually we will attempt of some of the following treatment options:
Unloader Brace: In my experience a good response to an unloader brace suggests that you will do well with a partial knee replacement
Cortisone injection: these are usually very helpful and allow most patients to push out their surgery. We recommend x-rays every 6-12 months to make sure we do not miss the right time for your partial knee.
Hyaluronic acid injections: Help much less an are usually only indicated in patients with mild osteoarthritis.
Weight loss: since weight is an important criterion for partial knee replacement we encourage you to optimize your weight as much as feasible.
Activity Modification: if you only have pain running, you might consider a less intense exercise like biking.
Surgical Procedure of Unicompartmental Knee Replacement
During the surgery, a small incision is made over the knee to expose the knee joint. We will remove only the the meniscus and place the implant into the bone by slightly shaping the shinbone and the thighbone. The correct sizes are determined on radiographs and for the MAKO robotic partial knee based on a CT scan.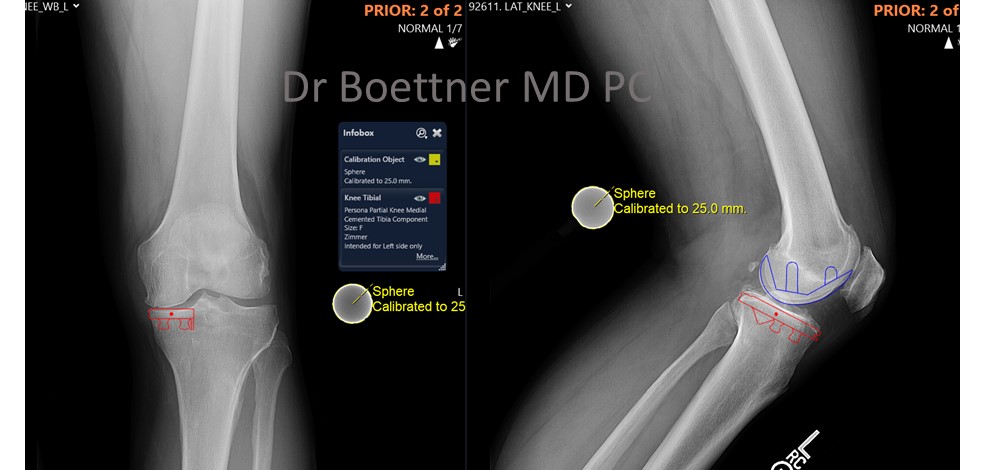 After implantation of the components and successful trial reduction (see also video) we than will cement the components in place and close the wound.
Postoperative Care
You may walk with the help of a cane for the first 1-2 weeks after surgery. My team will introduce you to a set of exercises that will help you to regain your range of motion. Motion is most important and within 2-4 weeks you should be able to get your range of motion back.
Most of my patients can return to work within 4-6 weeks, biking at 4 weeks and swimming at 6 weeks. Impact sport like tennis usually not before 8-12 weeks.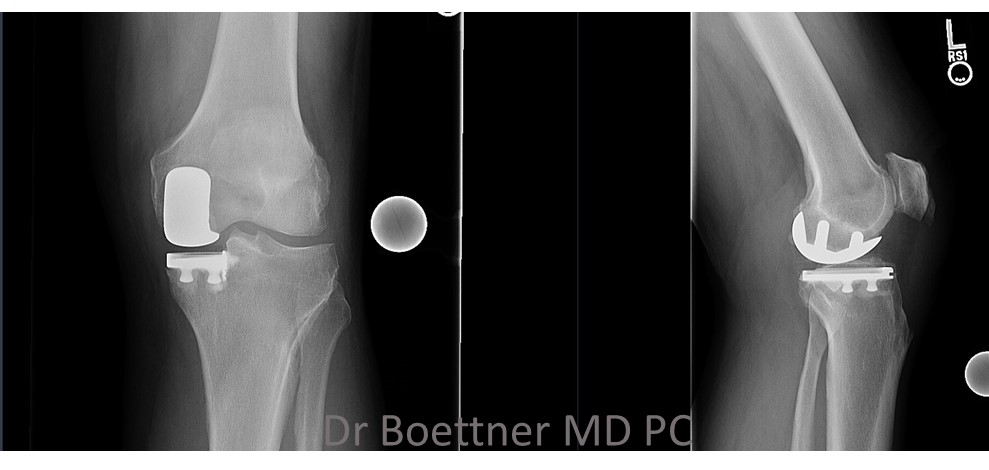 Risks and Complications
The possible risks and complications associated with unicompartmental knee replacement include:
Knee stiffness
Infection: extremely rare, not seen in my patients yet
Blood clots (Deep vein thrombosis): we usually put you on Aspirin, blood clots are extremely rare after partial knee replacement, never had a symptomatic one
Nerve and blood vessel damage: have never seen one
Progressive arthritis over the years: we think that 10% of patients at 10 years and 20% at 15 years will develop progressive arthritis in the other compartments.
Wear and loosening: Revision rates are similar to total knee replacement after 10years but increase thereafter. A partial usually does not last more than 20 years while many total knee replacement do.
Instability: is usually the result of a surgical error or wrong indication.
Advantages of Unicompartmental Knee Replacement
The advantages of unicompartmental knee replacement over total knee replacement include:
Smaller incision

Less blood loss

Quick recovery

Less postoperative pain

Better overall range of motion

Feels more like a natural knee
Partial Knee Replacement FAQ: Click here
Related Topics: