Out of Town Or International Patients
Thank you for considering to come to New York to the Hospital for Special Surgery to have your surgery with us. While in time of outpatient surgery and telemedicine we have more options than ever to provide care for patients that come from outside the tristate state area or from other countries we understand that the preparation and planning of your surgery away from home leaves you with questions and concerns. The following paragraphs try to explain to you what you should plan for when considering to come to New York for your surgery. The team in my office will help you from your initial phone call to full recovery.
Is coming to HSS for my surgery such a good idea?
After all aren't knee and hip surgeries pretty much common knowledge these days? They are, but there are quite a number of things that set us apart from your local doctor and hospital. More information on reasons to come to have your surgery with Dr. Boettner you can find here.
Does Dr. Boettner except my insurance, what is the cost for surgery at HSS?
We participate with many insurance plans. The hospital and the HSS anesthesiologist all participate with the same insurance plans that Dr. Boettner accepts. For questions about your individual situation pleasec contact:
Leslie Ann Brown in my office:
Anesthesia Department: 1-888-877-3850
International Center at the Hospital: please click here
I would like to know more about what Dr. Boettner can do for me?
Traveling to see your doctor is not always easy and feasible. We do offer Zoom appointments for an initial introduction and review of your treatment options if you are an international patient or live in New Jersey, Connecticut, New York or Florida. More information on how to set up a zoom appointment and upload your images you find here.
All other out of state patients can call my team at or emailing [javascript protected email address] to request a review of your images.
With this approach we can often limit your need for multiple visits to New York and can than schedule your appointment and surgery for one trip if this is more feasible for you.
What is the timeline for surgery?
What you need to do:
Time before surgery
Contact the office
8-12 weeks prior to surgery
Review radiographs and possible online appointment
6-8 weeks prior to surgery
Arrange for Hotel/Airbnb
6 weeks prior to surgery, remember NY is busy during certain holidays and times of the year
Book your Transportation
4 weeks prior to surgery
You have preexisting medical conditions (heart or lung disease, Diabetes, cancer)
Make an appointment with your primary care doctor or local specialist 4 weeks before surgery for medical clearance.
Appointment with Dr. Boettner
1-7 days prior to surgery, or independent of surgery date
Medical Clearance
1-7 days (if you are under the age of 65 with no health issues we can do the medical clearance the day before surgery)
Blood work/x rays
1-7 days
Hip class
1-7 days or online webinar
Post op visits
1-4 weeks after surgery
Return Home
Partial Knee Replacement: 5-7 days
Total Knee Replacement: 28 days
Hip Resurfacing: 5-8 days
Anterior Hip Replacement: 5-8 days
Posterior Hip Replacement 7-28 days
Follow ups after 4 weeks
Most of these can be done over Zoom
Where can I stay during my visit?
Information about Hotels you can find on the HSS website. Please check with Leslie in my office for special rates: Click here
Alternatively you can find information on websites like:
How to get to HSS?
If you fly in from out of town you should make flight arrangements into John F. Kennedy Airport (JFK) or LaGuardia Airport (LGA). Try to book a flexible return ticket home so you have the option to move the date if needed.
Medical Clearance?
Please make sure to get clearance for surgery by your primary care doctor or specialist if you have any major medical issue. Prepare a list of your medication and provide a copy of your last doctors note. Especially if you arrive close to your surgery date, we will not be able to arrange for special testing should the HSS internist recommend those. To facilitate a smooth visit please make sure you are healthy enough for surgery. Except for bilateral total knee replacements, we do no longer recommend routine donation of autologous blood. Transfusion rates are so low that most patients will not require a transfusion after surgery.
Rehab versus Physical Therapy?
Almost all our patients go home after surgery. Please arrange for your accommodation to be available the day of surgery if you are undergoing outpatient surgery or the day after surgery. We have work with therapists in Manhattan and the Tristate area that come to your house for in-home therapy. More information about our rehabilitation network you find here. In addition HSS does provide online PT clases. More information at the HSS Rehabilitation website. We usually do not recommend inpatient rehabilitation, except for patients after bilateral total knee replacement. Most of our patients after knee replacement surgery will be supplied with a continuous passive motion machine to help with the rehabilitation. Usufull Tools you can buy on Amazon or at the local supply store.
The Itinerary for your surgery in New York?
Day
Our plans for you:
Day 1
Arrival in NYC, visit with Dr. Boettner and Medical Clearance
Day 2
visit with Dr. Boettner and Medical Clearance
Day 3
Surgery
Day 4
Hospital
Day 4-5
Return to your appartment or hotel
Day 4-7
Home or online physical Therapy
Day 7
Visit with Dr. Boettner before your return home
Day 7-30
Home Physical Therapy in New York or Online PT
Day 30
4 week follow up visit either in NY or online
Where are our patients coming from?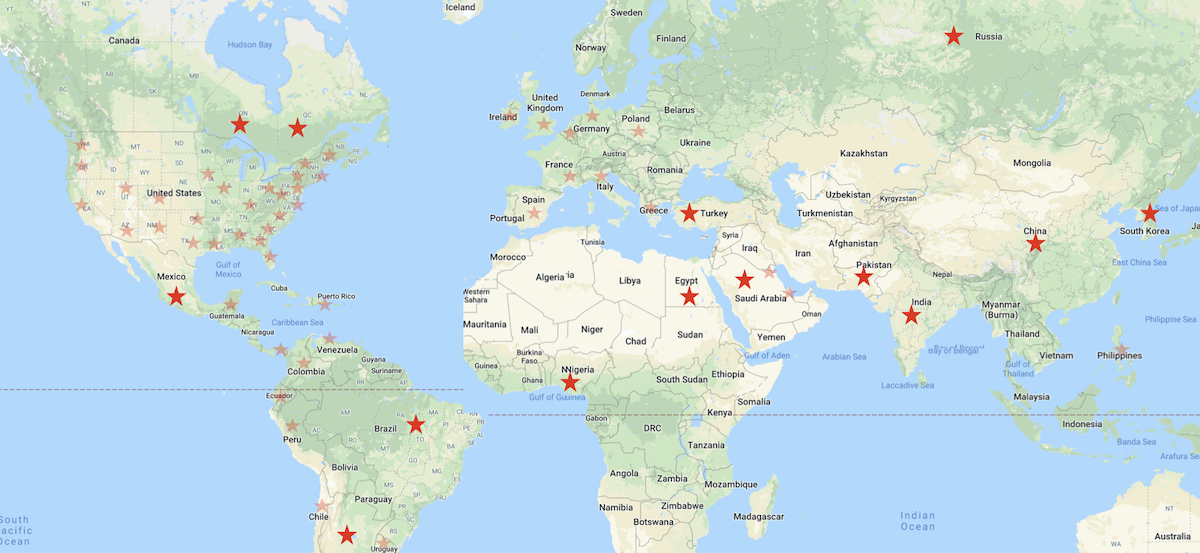 Quick Links